| | |
| --- | --- |
| | |

The MaxSwitch allows you to control power supply of any electric device. For example lights and heating.
Thanks to MaxSwitch, you can control from 2 up to 64 devices with one PC. The number depends on your configuration.

You can control devices connected to MaxSwitch in six different ways:
Directly from MaxSwitch application installed on the PC to which MaxSwitch is connected.
From the Internet Browser (MaxSwitch application has built-in web server).
From the WAP enabled phone.
By scheduled automated tasks (You can define as many tasks as you want. For example: turn-on the lights in the garden every Sunday at 8p.m. then turn them off at 11p.m.)
With your voice commands. You can define your own voice commands to control MaxSwitch switches. For example you may define a voice command "Turn-on lights in the aquarium". To enable and configure voice commands you must first install Speech Commander application which is available on MaxSwitch CD-ROM.
From your own applications, thanks to setsw.exe program.


For better understanding the idea of the MaxSwitch system, we suggest you to familiarize yourself with the following terms:

Hub
Hardware device, connected to your PC's USB port. With hub connected to the PC and software installed, you can turn-on or turn-off any electric device plugged in it. Hub has serveral sockets (looking like the ones you have in the wall). For example you may plug in a lamp to one of the hub sockets and control it with your PC. There are two types of hubs, Master and Slave. The difference between them is described below.

Switch
Switch is a program-controlled socket of a hub. Each hub has several switches. The number of switches depends on type of the hub.

Master Hub
Master hub is the hub connected directly to your PC's USB port. You must have at least one master hub. There are several types of masters hubs available. They differ between themselves with number of switches and electrical parameters.

Slave Hub
Slave hub is the hub connected to another hub. Therefore it is controlled via another hub. You may have up to seven slave hubs connected serially to one master hub.

MaxSwitch architecture
You connect hubs serially. Firstly, you connect master hub to PC via USB port, then you connect slave hub to master hub, then you connect another slave hub to the previous slave hub and so on. You may have 8 hubs altogether (1 master and 7 slaves) controlled by one PC. Slave hubs are connected between themselves by RS-485 cable. This makes possible to connect hubs over the greater distance and is cheaper because RS-485 cable uses less wires than USB cable.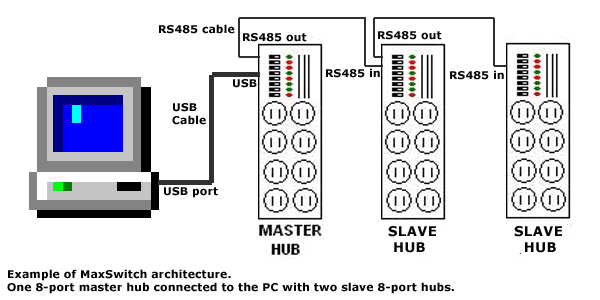 Copyright (C) 2012 Internet Solutions. All rights reserved.
Speech Commander 1.1
Download Speech Commander 1.1 now. With Speech Commander you can control your PC and MaxSwitch device by voice commands.
Became our business partner!
Take this unique opportunity and became the distributor of MaxSwitch products.Please send
as an e-mail with short information about your company and we will be pleased to inform you of our partnership program.
Enter your e-mail address in the following box and we will be pleased to inform you about our new products and promotions.

Your experience
Write to as at: info at maxswitch.com describing how you are using MaxSwitch. We will reward the most interesting examples!